Once I discovered FemDom, in my early twenties, it quickly became the way I express myself. I had always enjoyed my power, but until then it was not well defined. I quickly learned so many other ways I could control men. I would love to have discovered some of these techniques a lot earlier. Now Fem-Dom and Bdsm have become my life and my loves. The more my man is in thrall to me, the more he wants to do to please me and work for my happiness. So I like to toy with a man, I tease him by allowing him to get close, then I deny him and make him wait...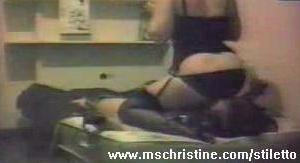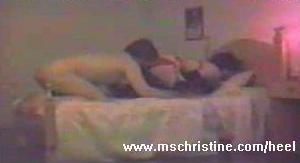 Once he is accustomed to denial I teach him that what he really needs and desires is to be used only for my sexual pleasure. I show him he needs to suffer pain and humiliation in order to heighten my power and my arousal. When he understands how much pleasure it has given him to be the cause of so many of my orgasms, I leave him erect, frustrated and wanting more... eager to work harder for me. What I have always enjoyed most about Fem-Dom is the power I have over the submissive who becomes enthralled by me. I relish the idea that a submissive can become motivated by his or her sexual desires and fantasies, because I can use that arousal to make them do anything I need....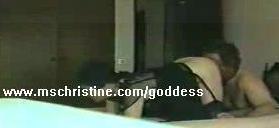 Real Fem Dom Videos
In my videos I do what I love, toying, teasing, denying, sexually using and then applying discipline to my slave. I turn him into a highly aroused and sexually frustrated man who is powerless to resist me. I make him into one of my playthings who will take whatever punishment and humiliation I care to dish out for his imagined and invented failures. Such men become eager to work harder to please a Dominatrix the more we humiliate them. These images from my home movies are me having fun humiliating and punishing my subby. I used to share these movies with my private postal mailing list in the days before the internet. But nowadays it's so much easier to keep in touch, submissives can now just click on a picture here to start serving me by getting a copy of one of my videos.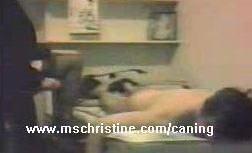 Both couples and singles are on my exclusive list for private mailing, so I know that many couples have found the movies inspire their own activities. I especially enjoy it when my single male and female clients write back to tell me how they are excited by watching my videos. I demand that anyone who is in service and devoted to me watch without taking pleasure or "spurting". I expect them to write back to confirm they have obeyed me. Those who are waiting for my permission to release are expected to wear the devices I order and restrain themselves for weeks on end. I enjoy keeping so many men and women frustrated by their desires.
I started out with some short home video clips, then I invented some full length stories to act out and edited my short movie clips into those stories to launch my videos as full length tapes. This made the end result much more realistic than the commercial videos that were available back in the days of video-tape. It also has the advantage of keeping any male I allow to wank while watching me in action on tenterhooks for a full ninety minutes!
The movies have all been digitized now for mobile devices, so lots more men can now click on the images here and download my full length videos. My slaves can now see me on the train, in their lunch break at work, or at home while they dream of serving me, and write to offer themselves as one of my playthings. So now I have lots of toy boys and girls waiting in endless frustration, writing in and telling me of their suffering, and begging to be allowed to please me further...... It's just Yummy!
MsChristine.com
On MsChristine.com you can read about how I started a bdsm club and hosted parties for both couples and singles many years ago. The newspapers lied about it and made it difficult to help couples in that way any more. I took action against one so called newspaper and won in court. Since that time as you can see for yourself on my DOMestic blog, I've devoted twenty years to helping folk with their fantasies and realities via the internet.
DOMestic
DOMestic Bdsm and Female Domination.

Books and Manuals
In my books and manuals I've also managed to help many couples and entertain many others who just wanted a good bdsm story to read.

The Training Program
In the Fem-Dom training program I took my work on the manuals one stage further and created interactive software to help women to learn how to dominate their men.

Why Dom sub
In Why Dom sub, you can see that after he introduced me to a wider world of Fem-Dom I was able to train and then encourage the submissive David to write his own explanation of how one becomes submissive. That led to him developing as an author and counselor and contributing more of his writing to my web site. He has since become a major help to many via the DOMestic blog. With a little coaching a submissive can achieve a lot....
DungeonNet.com
DungeonNet is now owned by me. It was started many years ago by good friends who have now retired. DungeonNet was created to help provide some organization to all the bdsm oriented sites on the web and guide folk to those that some of us, working as a team, had reviewed. DungeonNet.com was the first bdsm oriented search engine, and I believe it is still the best. Through the years DungeonNet has grown to become the most comprehensive directory of bdsm websites in the world.